On Wednesdaymorning March 13, Jason Palmer, journalist with The Economist, presented the Dutchcomposites ecosystem during the 'Country on Stage' event.
In this event, several representatives of the Dutch composites industry and knowledge institutes gave their views on current and future developments in fibre reinforced plastics. Inholland Composites was represented by Rogier Nijssen and Moaaz Gendy in the 'Knowledge – research collaboratives'-interview session, where also NLR, Brightland Materials, TPRC, and SAM/XL participated.
According to Moaaz, the future of Dutch composites research lies in the joining of forces of these and other knowledge partners. Rogier added that the composites industry association CompositesNL has made a good step towards such a collaborative through publishing the Dutch Composites Agenda during the "Country on Stage" presentation during the JEC World 2019.
This presentation was a unique opportunity to place the specific qualities, knowledge and skills in the area of composites in the Netherlands in the spotlight. Moaaz and Rogier were part of a special 1.5-hour programme in close cooperation between the private sector, the public sector, research institutions, and the top sectors HTSM and Chemistry. For the first time, the innovation activities in the Netherlands have been combined in a single agenda at a national level, creating more unity and improved mutual alignment, putting the Dutch composites sector internationally in a stronger position. At the end of this programme, Maarten Camps, Director-General of the Dutch Ministry of Economic Affairs and Climate Policy, and Marc Hendrikse, standard bearer of the top sector HTSM, received the National Composites Collaboration Agenda.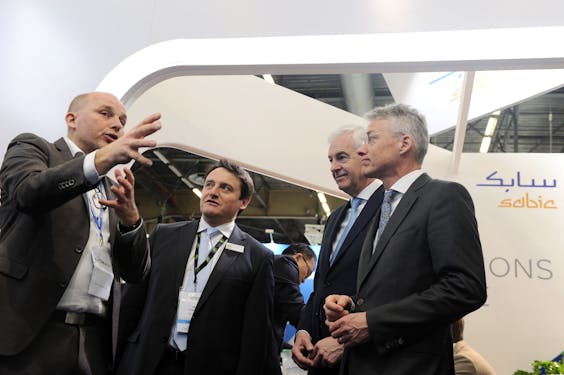 Read more about the Dutch Composites Agenda on the following page: http://r1ght.nl/national-coorporation-agenda-on-composites-is-available/